The case of Merck's Tredaptive and how the FDA thought one step ahead of EMA
January 3, 2013 | By Márcio Barra
The story of Merck's Tredaptive is a good example of the need for some drugs (particularly those for therapeutic areas that already have a standard drug therapy in place) to have an outcome study as soon as possible. It also showcases that surrogate endpoints for a drug clinical trial should not be perceived out as the final result.
Merck's Tredaptive is a combination drug, combining extended-release niacin with laropiprant. Niacin, or Vitamin B3, is used to modestly increase high-density lipoprotein (HDL), or "good," cholesterol in patients at risk for heart disease with low blood HDL levels. It comes with side effects for the user, but the most prominent are the adverse dermatological effects such as skin flushing, itching, dry skin and rashes, effects largely mediated by the release of PGD2 from cells in the skin, which binds to DP1 receptors on vascular smooth muscles in the skin vasculature, inducing vasodilatation.
Merck sought to fight these side effects and designed Laropiprant, an high affinity antagonist of DP1 receptors, that antagonises the vasodilatory effect of nicotinic acid via inhibitory action on DP1 and greatly reduced the dermatological side effects in clinical trials.
As the trial results were great, EMA approved this drug for the European Union back in 2008 and health care prescribers started new patients with Tredaptive when it lauched in the market.Tredaptive is currently approved in 70 countries, but only garnered minor sales – about $50 million a year.  The FDA however, did not approve it for sale on the United States. Why?
Well, the FDA wanted to know more. They wanted to know if Tredaptive performed well in an outcomes study, if it was at least as good, when combined with a statin (the de facto therapy for preventing heart attacks and strokes), to statin therapy alone. In a study such as this, good or bad cholesterol levels are not the final result.
So, Merck went ahead and undertook a massive, 4 year,  26.000 patient clinical trial. It was called HPS2-THRIVE – Heart Protection Study 2-Treatment of HDL to Reduce the Incidence of Vascular Events. It compared statin + tredaptive to statin therapy alone. The primary study objective was to assess the effects of raising HDL cholesterol on the risk of heart attack or coronary death, stroke, or the need for arterial bypass.
The results from this study came out shortly before the holiday season. HPS2-THRIVE showed that  Tredaptive plus a statin did not significantly reduce CV events compared to statin therapy alone.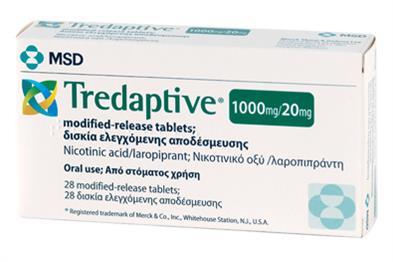 Some lessons can be learned from this outcome.
First, this is drug that raises HDL, or "good" cholesterol. Common sense says that if you increase your good cholesterol levels, your risk of CV events reduces. But even though this drug raised good cholesterol, it didn't improve clinical outcomes. Common sense, and common clinical practice (Abbott Laboratories, for example, sells an extended-release form of niacin called Niaspan, which generates about $900 million a year), are thus put into doubt.
Second, this study also showcases the importance that a study should focus on outcomes that really matter, such as quality of life or higher life expectancy, rather than focusing on surrogate endpoints. The trials conducted for Tredaptive focused on finding answers to how well the drug raises good cholesterol, a surrogate marker for CV diseases, and not really on the impact on peoples' lives. HPS2-THRIVE showed that this was an unwise move.
Third, this shows EMA the importance of these kinds of outcomes studies before approving a drug. HPS2-THRIVE final results prompted EMA – specifically the Agency's Pharmacovigilance Risk Assessment Committee (PRAC) –  to start a review of the safety and efficacy of Tredaptive. An opinion is expected to be released this month.
This development will surely impact both consumers, Merck, and EMA. Consumers who are taking niacin therapy will certainly start taking another therapy with more advantageous results. EMA instructed that no new patients should start taking Tredaptive while their review is ongoing.
HPS2-THRIVE failure leaves for Merck with only a few late stage drugs, like Suvorexant, a sleep drug (an already crowded market), and Odanacatib, for osteoporosis.
As for EMA, these results will almost certainly affect how it approves future drugs for sale on the EU Member States. In the future, drug companies can expect greater scrutiny from the agency, as it starts requesting more outcomes studies for a drug before an approval, to ensure that the drug not only reduces or increases a number available from a blood test, but also provides a measurable, tangible effect on a patient's life.
Sources:
http://www.cnbc.com/id/100330851/Merck_Announces_HPS2THRIVE_Study_of_TREDAPTIVEtrade_ExtendedRelease_NiacinLaropiprant_Did_Not_Achieve_Primary_Endpoint
http://www.fiercebiotech.com/story/mercks-big-phiii-tredaptive-trial-flunks-cardio-goal/2012-12-20
http://www.cbsnews.com/8301-204_162-57560465/european-group-reviews-tredaptive-due-to-failed-u.s-study/
http://www.plosone.org/article/info%3Adoi%2F10.1371%2Fjournal.pone.0040222
http://clinicaltrials.gov/show/NCT00461630
http://www.healthnewsreview.org/2012/12/story-of-tredaptive-good-cholesterol-drug-another-lesson-on-surrogate-endpoints/
http://www.ema.europa.eu/ema/index.jsp?curl=pages/news_and_events/news/2012/12/news_detail_001686.jsp&mid=WC0b01ac058004d5c1