Study shows that Eliquis is safer than Warfarin in Venous Thromboembolism care
July 1 2013 | By Márcio Barra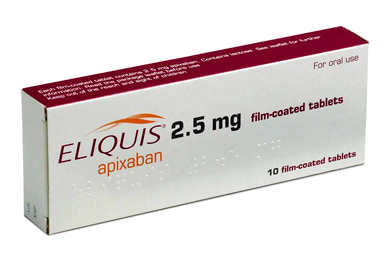 Pfizer and Bristol-Myers Squibb announced that their blood thinner Eliquis was as good as the Warfarin, the current standard of care, in preventing blood clots, and has a 69% reduction in risk of bleeding complications compared to Warfarin, according to the results of the AMPLIFY study.
In this study, a large, six – month trial with 5,395 participants – Eliquis was found to be equivalent to the generic drug warfarin at preventing new clots and death in patients who had a venous thromboembolism, or VTE, achieving the study's primary efficacy endpoint of noninferiority against warfarin. Eliquis also led to a nearly 70% reduction in the risk of major bleeding and more than a 50% reduction in a category known as clinically relevant non-major bleeding compared to warfarin.
While VTE isn't Eliquis' main use – prevention of stroke in patients with atrial fibrillation – the positive results in broader applications might be what the drug needs overcome the slow uptake that has afflicted the drug's launch. Boehrinher Ingelheim's Pradaxa (2008) and Johnson & Johnson  and  Bayer's Xarelto (2011)  head start in the market have also hurt Eliquis launch, so the confirmation that Eliquis is safer than Warfarin might push more physicians to start prescribing the drug.
While physicians are comfortable with the use of warfarin, the drug needs careful patient monitoring of levels of the drug in the blood and dose adjustments, alongside patient dietary and lifestyle changes to prevent dangerous bleeding. Eliquis and its rivals offer a fixed dose treatment with little or no patient monitoring required.